The Bully Kutta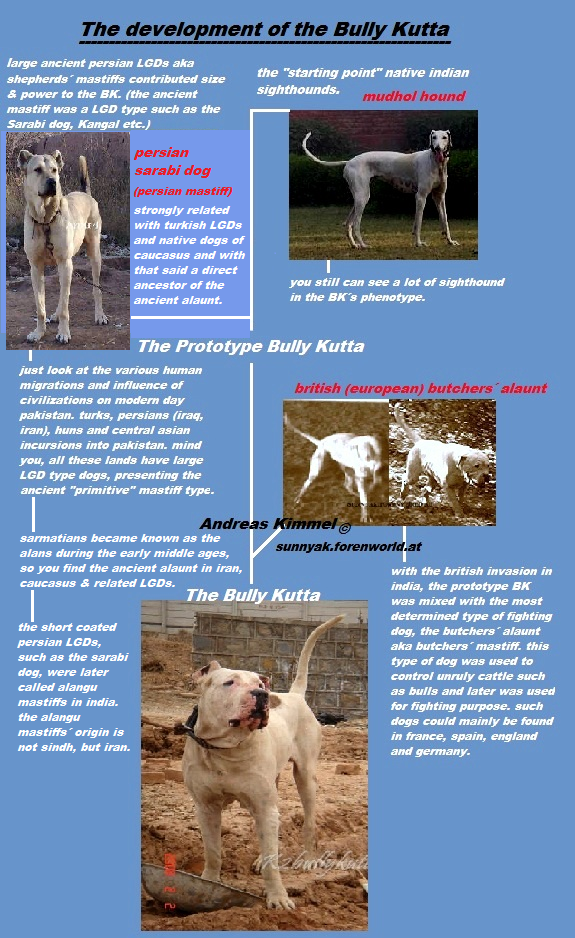 i have created the graphic above to show my views on the origin of the bully kutta. i have tried my best using paint.
for me the starting point of the BK is when the native indian sighthounds melted together with large LGDs from persia. (both of them you can see at the top of the pic.) the ancient large persian mastiffs were LGDs like the sarabi dog. (in phenotype they were pretty much like kangals, maybe even like the aksaray malaks sometimes). in general all LGD types in the middle east are similar dogs, namely ancient "primitive/original" mastiffs.
just look at the various human migrations and influence of civilizations on modern day pakistan. turks, persians (iraq, iran), huns and central asian incursions into pakistan. mind you, all these lands have giant LGD type dogs i.e. kangals, sarabis, aksaray Malaks, CAO types....
however i would say the sighthound influence was big enough that the BK was more leaning towards a running mastiff, while the ancient LGD types (the original central asian mastiffs) added power and size. these running mastiffs were propably a type we could call the "prototype bully kutta".
with the british invasion in india later also british blood was added, mainly of butchers´ alaunts and this was when the modern bully kutta arose. these british dogs for sure added determination & gameness. i explained this further on my chart.
i would like to hear your thoughts and opinions too.
well, me personally i neither agree with people who deny that india had larger mastiff types before british people arrived, (mainly used for hunting) nor do i agree with the guys who are, portraying the bully kutta as a dog that fell from the sky somewhere in pakistan, having no influence of large shepherds´mastiffs such as sarabi dogs etc. turks, persians (iraq, iran), huns and central asian incursions into pakistan should not be forgotten. all these lands have giant LGD type dogs such as kangals, sarabi dogs, aksaray malakis, CAO types etc. and they melted togethers with native hunting dogs from india. so there we had a prototype bully kutta, but this dog was no fighting dog yet. it was more a multi-purpose dog (hunting & guarding). the culling for fighting began later and there the mixing took place. (butchers´alaunts and some other types the british took with them). i don´t think british people added more hunting types as they would not be useful for fighting and the prototype BK already had enough sighthound blood.
bully kutta graphic again: (the reason for the landscape format i explain at the bottom of the page)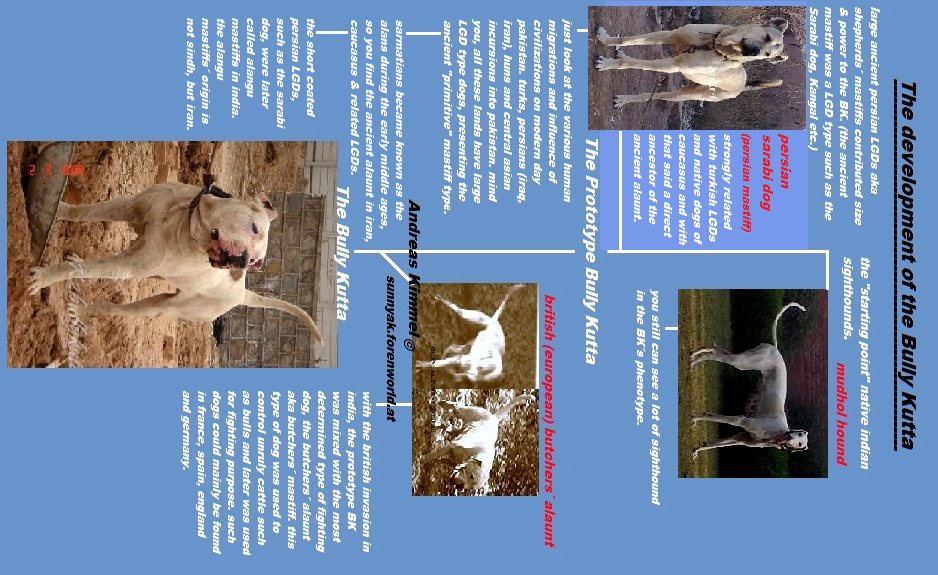 beside that here is an interesting video, what do you think about the facts and especially about conclusions made in the video:
http://www.youtube.com/watch?v=_WV1hs7UM9s
http://sunnyak.forenworld.at/viewtopic.php?f=6&t=1326
http://carnivoraforum.com/topic/9787470/1/